The Atlas / NewCom Page

**********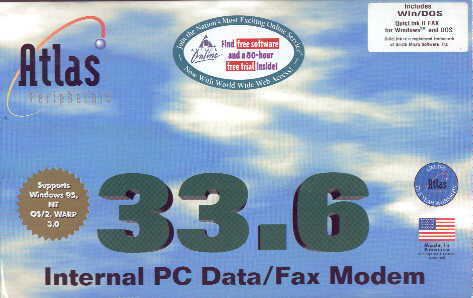 (see below for lastest rebate information -GF)
---
---
e-mail I've Received
Last Update 04-23-99

********************
PRO ATLAS / NewCom !
--------------------
Date: Thu Sep 24 07:43:34 1998 From: gooey(gtrpikker@aol.com) ------------------------------- the above e-mail address is mine --- this si different one .... U R WRONG !!!!! i have purchased severeal atlas pieces and gotten every rebate -------- u mustve done somthing wrong ---- it is surely not the company's fault !!!!!!!!!!!! ( and no, Im not affiliated with them .... just a fairly happy customer ) .... my 33.6 modem will only run 28.8, but i got my rebates
---
Note for gooey,
I appreciate your concern about me having enough intelligence to fill out the rebate certificate. But it was not the first, nor the last that I've filled out. Oh! By the way, all the other company's sent back the rebates.
Also I appreciate your concern for the company that you are not affiliated with.
I am concerned about your modem speed though, since my 33.6 modem runs at 38.4 when I connect to the internet. Maybe you need a new internet service provider, (ISP). Check My Home Page. Mention my name and they'll give you a good connection.
Good Luck,
-George
---
---
THE OTHER SIDE!
---------------
08-31-98
Odd... I've been having trouble getting Atlas Peripherals/NewCom sending me my rebate as well... Got a message back from rebate@atlasperipherals.com claiming that I had reached tech support; got shunted to voice mail when I called what was purportedly the rebate department, and would never get a phone call back.
Finally, they returned my call tonight. Don't know whether it was my calling Best Buy's Customer Relations department (Best Buy reports that they've been getting a sizeable volume of complaints), or my emailing the California Attorney General. Of course, it might have been my emailing the SEC suggesting that NewCom's treatment of rebate customers might suggest that it has been submitting false financial statements to the SEC regarding outstanding rebate liabilities. It could have been my emailing the law firm of Milberg Weiss (William Lerach, heard of him? notorious San Diego attorney who loves to file class actions for witholding pertinent financial information should a tech firm's stock drop).
In any event, you might want to contact www.sec.gov's enforcement division if you think NewCom is holding back on rebate checks to boost its financials (its recent SEC filings have suggested that it may be in trouble).
And if you want to contact William Lerach (web site www.milberg.com), who knows--"You May Already Be a Winner!"
-RS
---
09-03-98
This is a little crazy, but read on.

My name is P.L. For the past 24 weeks I have been fighting to get my owed rebate out of a company by the name of NewCom Inc. located in Westlake Village, CA. I have also come to find out that I am not the only one in this situation.

Now, I called NewCom (for the tenth time) yesterday, to again put a little pressure on those people to get my money. Lo and behold, they now answer the phone as Atlas Peripherals. The person I talked to was very receptive and seemed understanding about the rebate situation. He took all my information, and when questioned about the change of company name, he would only state that NewCom had been purchased by Atlas.

This does not give me a warm feeling, after doing a search on Alta Vista and finding your site and your statements about Atlas ripping you off on rebate(s). I think their is some sort of corporate level musical chairs going on here, and the public just cant win. It is also a bit ironic that both NewCom and Atlas are located in the same area of California. This leads me to believe that some sort of business relation may have existed before the name change.

I have complained to the Santa Barbara better business bureau, posted complaints with various consumer websites about NewCom, and even contacted a law office in California that was fielding complaints about this company. All to no avail....so far. They have ignored all of my emails, telephone calls, and never responded to either of two letters I sent them.

More irony. I looked into the government financial statements posted as required by NewCom, and according to that info they were operating very profitably, had substantial cash flow, and had just released a whole string of positive looking statements concerning business affairs.

This is all very strange to me. They are outright de-frauding the consumer on these rebates, yet it is the consumer who supports their profits. What gives?

Anyway, just thought you might find this whole story rather interesting....especially the merger/buyout part. It will be interesting to see if Atlas comes through on the broken NewCom promises.

If they do not, I would like to see some sort of legal action get started on behalf of people who bought both Atlas and NewCom products and have been stiffed on rebates, since these two hardware giants are now in bed together.

-PL
---
10-05-98
I agree with your rebate findings! Sent in rebate on modem and never received it.
Contacted them and told them I didn't receive my rebate. They asked me to submit the rebate form again and they said they would follow up on my original rebate coupon I had sent in.
It,s been 4 months and haven't heard a word. Decided it was a lost cause !!
-MK
---
12-17-98
Any way to get the refund money back??????
We were ripped off.....
-TH
---
01-01-99
Dear George:
You are so very very right about the rip off.
I bought an atlas CD Rom which carries the name of Wearnes CDS 32x about 4 months ago and have been given nothing but the runaround about my rebate. The CD Rom seems to do ok ,. but as much trouble with the rebates as we have I can sure imagine what kind of problem it will be if we have CD troubles. Well just thought I would bend your ear with a bit of scuttlebutt. Great web site you have,keep up the good work.
Have a Happy New Year.
-RI
---
04-05-99
I purchased a 32x cdrom from Circuit City in July 1998. Sent in additional copies after phone contact w/Texas number on rebate form.I have received constant run around on phone from them-voice mail after being on hold for 1 hour. I contacted Circuit City and received $30 in store credit from them.
-SZ
---
04-05-99
I too have been trying to get my rebate from Atlas since Feb of 1998.
Lately I have been concerned less with the money and more with the principle.
I located www.atlasperipherals.com and got the following number for rebates: 800-889-1825.
Apparently Atlas Peripherals has gone out of business and Best Buys is honoring the rebate offer.
They took my rebate info over the phone and said I should receive a check in 4 to 6 weeks (we'll see).
Good luck.
-KM
04-16-99
I actually received a rebate check today.
-KM
(note: Rebate was from "Best Buy" not Atlas -GF)
---
04-13-99
You're right on the money. I purchased a CD-ROM drive on 6/28/98 and have been trying ever since to get the $30.00 rebate. No success thusfar, but I'm not giving up.
-DH
Fredericksburg, VA
---
05-19-99
Subject: Lack of Newcom rebate
Add me to the angry & frustated list of those waiting for a rebate on a Newcom product.
CD purchased on January 4 with $20 rebate.
I sent messages via email and their web site.
Interesting one of people that sent you email mentioned # in Texas on their card to call. I live in Texas and number on my "support & Service Guide" is 818 number in Westlake, Calif. My rebate forms were mailed to Irving Texas, not far from me but no phone or listing.
Unfortunately I did not purchase at Best Buy but at Fry's and so far they refer me to Mfg.
I called the 818 number & got a voice mail that said there was a 35 minute average wait. Sounds like they only give #'s that are NOT local. Listed below is an online complaint form with the FTC. If you look at Newcoms web site for rebates there is no filing, just statement that no comments due to pending litigation???
Thanks for providing forum for this. Most rebates STINK. I have never got one without followup and complaints. Rebates should be on Fleecing of America because that is what they are. Federal Trade Commission on line complaints.
www.ftc.gov/ftc/complaint.htm
-J. B. R.
Tx.
-----------------------------------------------------------------------------------------------
Hi J,
Thank You for your input. Sorry you had to become a member of the club.
I'll add your letter as soon as I get a chance.
Received an email from a guy the other day who actually got a check from Newcom. Of course it bounced. But he did get a check.
Take care,
George
-----------------------------------------------------------------------------------------------
Thanks George for responding
Used your info to raise hell with Fry's. When I told them of complaints on the web Fry's admitted they had complaints. I faxed them copies of documentation. They said they would submit it to corporate.
I am not interested in buying the Brooklyn bridge either. I will call Fry's once more tomorrow before I file complaint with FTC on both companies for all good it will do.
J.
---
---
---
Miscellanies:
---------------
08-30-98
Looking to purchase a CD-ROM Drive.
Store near me has one (32X ) for $29.99, no rebate offered.
Have you had any serious problems with the one you purchased?
Looking to check out this product BEFORE I buy.
Please respond as soon as possible, hoping to hear from you soon.
(Mrs)
-GE
Hi G,
I didn't purchase a cd-rom drive, I purchased a modem. I've had no problem with the modem. Just with their rebate program. Hope this is of some help to you.
George Fetherman
08-31-98
Dear George,
Thanks so very much for your reply to my request for information.
I have decided that if they can't be trusted in the rebate area, I am not going to trust them for technical support if I purchase one of their products.
Thanks again,
-G
---
---
04-18-99

Rebates
Recently, Best Buy has acquired a new fulfillment center to process all rebates. Please call Best Buy rebate center at 1.800.849.0444. A representative will ask you for your purchase information and mailing address, and then will research your request. If all requirements are met, you can expect a check within four weeks.
---
---
To Contact Me

gfetherman@bigfoot.com
....................
Anyone out there with information on any of my subject matter,
feel free to send me additions and / or corrections.
The memory isn't what it used to be.
(If it ever was.)
______________________________
RETURN TO MY HOME PAGE
______________________________

This page has been visited
times.

---
---
990508